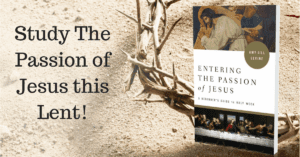 Zoom Sessions every Wednesday from 2/24 until 3/31; beginning at 6:00 pm.
This year our Wednesday Night Lenten Series will focus on Holy Week – the story of Jesus' Passion, with author Dr. Amy Jill Levine's book Entering the Passion of Jesus. We will seek a deeper understanding of this biblical story with Dr. Levine, Professor of New Testament and Jewish Studies at Vanderbilt Divinity School. Dr. Levine brings her Jewish background, historical expertise and vast knowledge of the New Testament and Hebrew Scriptures to this 6-week series.
Lenten Study Book Information
As a result of online programming this year, we ask that participants order the book themselves. Please contact your local book store to order a copy or click this link Entering the Passion of Jesus to order from Amazon.   To make sure that our Zoom meetings are secure and safe we ask that you contact the Church office so that we might add you to our list and send you the invites each week.  We look forward to your participation.