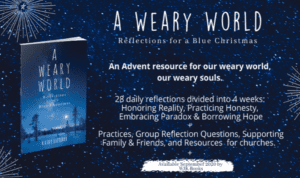 2020 has been a year like no other in our memory. Never in my life have we failed to meet for Easter worship.  Many Churches across the nation still have not returned to worship services and it may be months until we return to anything that might be considered normal.  These changes have left us wounded and weary as we enter the Advent season.
Advent is historically a time in which we remember how God's people waited for the coming of Our Lord.  This year has added poignancy to our waiting and context to the historical pain that the people of God endured before the in-breaking of Emmanuel! God With Us.
Since we can not yet gather in person; we will be holding a special ZOOM Advent series based on Kathy Escobar's excellent and prescient book; A Weary World.  We hope that it will give you a chance to reflect on this difficult moment in time; a time to mourn that which you have lost; and an opportunity to look forward in hope to the promises of God that have yet to be fulfilled.   Please contact the office if you would like to order this book; and let us know if you would like to be added to our Zoom list to participate in this special program.
Our Advent program will begin on Wednesday, December 2 at 6:30 pm.