Promoting the Discovery of Jesus Through Sports!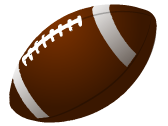 REGISTRATION NOW OPEN. . .
2017 UPWARD
Flag Football and Cheerleading
Youth Boys and Girls Ages 3 through 8th Grade
Promoting the Discovery
of Jesus Through Sports!
Basic 2017 Season Info:
K3 – K4 year olds (skill building) league will consist of weekly practices, exhibition games according to ability, and awards night
K5 – K8th league will consist of weekly practices, weekly games, and awards night. Participants will be grouped by age and ability.
Register BEFORE June 7th the fee is $90; Includes uniform ($5 discount for additional children in family) AFTER June 7th, Registration fee is $115
Fees are due at Evaluations (only need to attend one) – you can register online and elect to pay in person
Partial Sponsorships are available, upon request – Please register online and click pay in person and email us for a discount code at firstbaptistupward@yahoo.com
Practices will be Wednesday evenings, Prayer & Potluck 6-6:45pm; Practice 7-8pm; July – September
Games will be Saturdays at 6:00 pm
Awards Banquet – Sunday, October 1st
Evaluations, Practices and Games will be held at:
First Baptist Church of Greater Toledo
6520 Pilliod Rd., Holland, Ohio
Register Today! Click the link below and get started…


http://registration.upward.org/UPW63785

or contact the Church office Monday thru Thursday, 9 am – 3 pm for a registration form.
We Need Volunteers: No Experience Required
· Wednesday Evenings in July – September (1 1/2 hours)
· Saturday Evenings August – October 1st (2 hours)
· Coaches, Asst. Coaches, Referees, Concession workers, Score Keepers, Prayer Warriors, etc.
· Sponsorships needed $90 a player
· Distribute brochures to your friends, family, in your neighborhoods & businesses you patron.
Volunteer TODAY to be part of this
wonderful community outreach and be transformed!