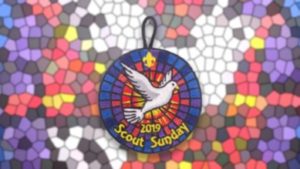 The Scouting program at First Baptist is more than just an activity for our youth to learn about the outdoors. Scouting provides fun, fellowship, and training to our youth as well as youth in our community. It emphasizes honesty, self-reliance, and respect. Through a year-round program, it affects character, citizenship, and personal fitness. As the Boy Scouts of America celebrates its anniversary, we salute the volunteers who serve as leaders. Following are comments & observations by Scouts, parents, and ministers about the impact and close relationship between Scouting and religion:
"I think the Gospel is a very powerful, yet a very simple message. It is a message of love, respect, and responsibility. Scouting is all of that." —Pastor Peter Paine, Waukegan, Illinois
 "Scouting's God and Country program really made me think about my relationship with God and made me evaluate it." —Scout Robert Lalley, Princeton, New Jersey
 "When you look at the Scout Law and the principles which Scouting teaches young people, all those things are basically biblical principles." —Pastor Robert Cushman, Princeton, New Jersey
 "I've seen him study the Bible more in preparation to do devotions, that all the boys participate in." —Elinor Dalene, Parent, Wyckoff, New Jersey
 "It is our Pack, we can really build it the way we want, we can determine those factors that are important to us to build into the program, just as God would have us to do." —Pastor Don James, Wyckoff, New Jersey
On Sunday, February 10, the families of Pack 236 will again join us in worship to celebrate Scouting's anniversary. Join with the Scouts as they provide refreshments for the congregation prior to the worship service as a small token of thanks for First Baptist's continued support.